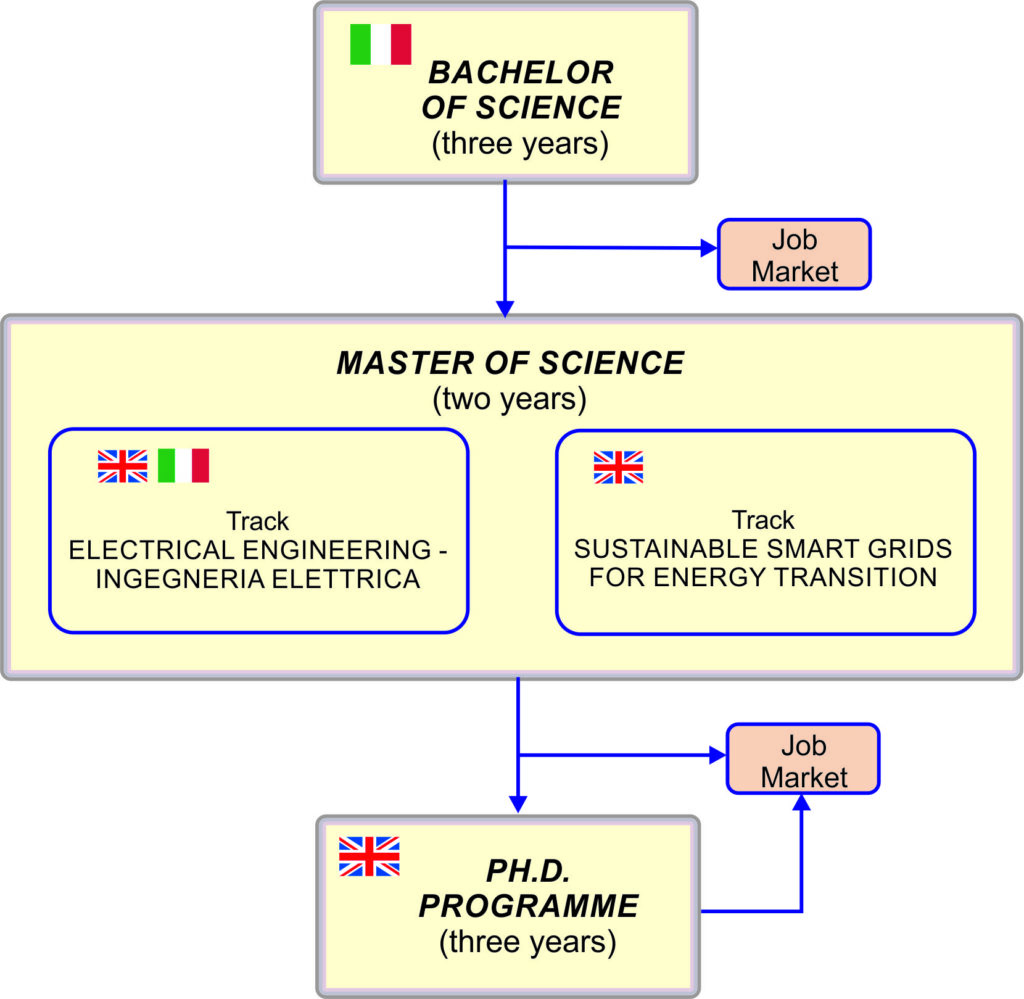 Politecnico di Milano offers three study programmes in Electrical Engineering:
Bachelor of Science (Laurea)
Three-Year programme allowing students to get the Laurea Degree (equivalent to Bachelor of Science Degree) and enabling them to enter the Master of Science.
Master of Science (Laurea Magistrale)
Two-Year programme, allowing students to get the Laurea Magistrale Degree (equivalent to Master of Science Degree). The M.Sc. degree is a prerequisite for get access to the Ph.D. programme.
Ph.D. (Dottorato di Ricerca)
Three-Year programme.
Besides classroom and laboratory activities, the aforementioned study programmes can include internships with companies or research centres, and/or periods abroad through the Erasmus Plus Program and Bilateral Agreements with partner European and Extra-European universities. As an example, joint study programmes are run at the M.Sc. in cooperation with Xi'an Jiaotong University (XJTU), Xi'an, China and Beihang University, Beijing, Cina. (Use appropriate links for more details on these initiatives.)
The undergraduate programme in Electrical Engineering is composed of 180 university credits distributed over three years and leads to the B.Sc. degree in Electrical Engineering. The official language is Italian. The study programme is aimed at forming students able to master basic methods and notions of Electrical Engineering, in order to train qualified professionals capable of solving typical design issues.
The first two years of the programme are aimed at providing a wide background on Mathematics, Physics, and Circuit Theory, to lay the foundations above which a solid engineering expertise can be built. Additionally, the first two years are also devoted to multi-disciplinary aspects of paramount importance for an electrical engineer, such as Computer Science, Automation Theory, Foundations of Electronics and Mechanics, and Management Engineering. In the third year it is finally possible to approach the core subjects (electrical machines and power systems).
The B.Sc. study programme is concerned as a preparatory path for the advanced M.Sc. study programme. Hence, it is focused on providing a rich background on theoretical methods. University courses are characterized by a strong methodological content, which is aimed at strengthening the capability to generate mathematical models of phenomena, and to verify results through experimental measurement, in all the application fields of Electrical Engineering.
Anyway, applicate issues are not forgot, in order to favour a quick access to the job market for those students who are not considering an immediate continuation of their studies. In particular, the given subjects allow the students to gain specific qualification either on electric power systems or electrical machines and drives. Finally, the possibility to enter upon an internship (in an industry or engineering firm) favours a quick contact with the job market further on.
Further Information
School of Industrial and Information Engineering

Educational rules for the Study Programme in Electrical Engineering
Rules for foreign language (PoliMI official site): starting from the academic year 2006/2007, Politecnico adopts English as the EU language that has to be mastered besides Italian. This implies that students must demonstrate their command of the English language to access the Laurea Specialistica/Magistrale degree.

Politecnico admission information